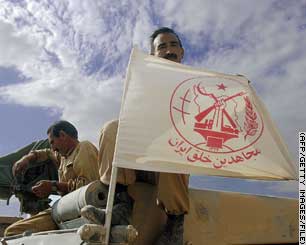 From Uruknet. Watch this one as one of the barometers of how relations between Iran and the U.S. are developing. 
Iranian group in Iraq part of high-stakes politics
By KATARINA KRATOVAC (AP)/April 14, 2009
BAGHDAD – The Iraqi government is stepping up efforts to pressure Iranian exiles into leaving the country, pushing an obscure group to the forefront of Baghdad's relations with Washington and the Obama administration's overtures to Iran.
At stake is whether Iraq can resolve the fate of 3,500 members of the People's Mujahedeen Organization of Iran without damaging its ties to both the U.S. and Iran.
In recent weeks, leaders of the People's Mujahedeen, known by its Farsi initials MEK, claim the Iraqis blockaded their Camp Ashraf north of Baghdad, allowing in only limited food and water shipments.
And earlier this month, they say, the Iraqi guards prevented Iraqi surgeons from entering the camp to treat critically ill patients — although the Iraqis ultimately relented.
To outsiders, the MEK may seem a strange cult-like group that bans sex and family life — an image the MEK attributes to "demonization" by the Iranian government.
Both the U.S. and Iran consider it a terrorist organization.
The Iraqi government makes no secret it wants the MEK out of the country in order to improve relations with Iran.
"Remaining in Iraq is not an option," said national security adviser Mouwaffak al-Rubaie. "They have existed in Iraq solely to overthrow the government of a neighbor, Iran. That past permissiveness is over."
Iran has pressed for years to close the camp, but the issue came to a head after Iraqi forces took over security for Camp Ashraf on Jan. 1, under the Iraq-U.S. security pact. The government gave the Americans assurances they would not force the exiles back to Iran, where some face prosecution.
U.S. officials in Baghdad have declined to comment publicly on the MEK issue.
But the U.S. has a stake in the issue because the U.S. military signed an agreement with the militia after the 2003 U.S.-led invasion, promising members would be treated as "protected persons" under the Fourth Geneva Convention.
Al-Rubaie says that with Iraqis in control, the MEK is no longer protected by national laws or international conventions and must leave.
He dismisses claims of maltreatment and says Camp Ashraf residents are extremists who have been "brainwashed" by about 15-20 of their most militant leaders. The U.S. has tried to defuse the tensions but without much success.
Read the complete article here ...