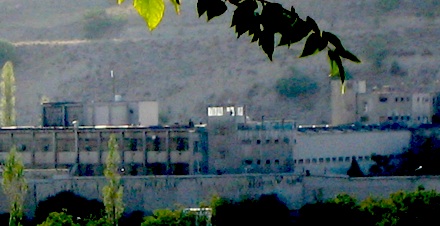 From
Iranian.com
.
A Place Called Evin
By Fariba Amini /
04-Sep-2009
This report is dedicated to the brave men and women of Iran who have sacrificed with their blood and their courage to uphold freedom for their homeland and continue to do so….To Neda and Sohrab who only wanted to see their votes counted and whose voice was silenced forever …
Evin, which derives its name from a village in the northern Alborz Mountains of Tehran, was built in 1971 during the reign of Mohammad Reza Shah Pahlavi. Previously, it had been the home of Seyyed Zia'eddin Tabatabee, a pro-British politician who was a PM under Ahmad Shah, the last Qajar Shah. After his death, the ownership of his property was transferred over to SAVAK and was then converted into what is today known as Evin Prison. It is a large compound of a few acres and has a wall built all around it. If you go to northern Tehran from the center of the city there is a good chance you will pass by Evin Prison. There are always guards outside, and families waiting to see their loved ones.
Evin is known as a prison for political prisoners especially its 209 ward is notorious for that reason. But it is also a prison for many regular offenders and common criminals. In many instances, political prisoners are kept in the same block as others. The prison originally housed 320 inmates and there were 20 solitary cells and close to 300 communal cells. By 1977, it had more than 100 solitary cells especially designed for more famous political prisoners. At that time, there were close to 1500 prisoners in Evin.
During the Shah, Evin was a detention center for many revolutionary groups such as the Mojahedin, Fedyayeen, and Peykar, whether Marxist or Islamic alike. Members and sympathizers of Iran's pro-Soviet communist party (the Tudeh) were also incarcerated there. Many prominent clerics such as Grand Ayatollah Montazeri and Ayatollah Taleghani were also imprisoned in Evin before 1979. Hashemi Rafsanjani was a detainee there at one time. Ali Khamenei, the "supreme leader", was another captive who spent time in Evin. Even Assadollah Lajervadi, who later became the warden of Evin, (given the title of the butcher of Evin) had spent some time there prior to 1979 for allegedly trying to bomb the El-Al office in Tehran.
The most famous/tragic incident before the 1979 revolution occurred on the hills of Evin on April 19, 1975 when Bijan Jazani and his group (8 people) were taken and shot to death from the back. It was alleged that they were trying to escape.
Read the complete, and very informative, historical review here ...